Week One: July 5- July 8
By P. "Mama El'tsah" Broden
Over the next few weeks, 950 students in six Title 1 elementary schools here in Montgomery County will experience the magic and fun of art…
It all began with the purchase of 6 rolls of vibrantly colored tape, which would play a vital role in keeping the pulse of our dance classes strong.  Red, Green Yellow, Blue, and Purple, were the colors selected to define our official "Stage," alias "The Dance Space" or "The Dance Island." This "Island" sits at Wheaton Woods Elementary in room #5, a very large classroom that has been cleared of all furniture except for a computer table, cleaned and the floor super shiny with promise for amazing footwork to boot.  Thank you Ms. Stephy for making space!
After measuring the space with careful footing, a semi-perfect rectangle formed, smiled and said, "Here we go again"!" another summer of ELO!"
I then placed strips of tape within the rectangle to indicate each dancer's very own VIP dance space spot. Then the moment arrived, the meeting of the fifth grade dancers and me, their Personal Dance Space Tour Guide.  We entered the dance space to begin the process of getting to know each other, developing confidence, and becoming comfortable with different movement activities.
After quick introductions, we began moving right away with expectations, i.e. first establishing our dance spots and then getting to places in 16 counts. Next , it was time to mirror the teacher with a warm-up, Then, embrace the space by walking, moving  or grooving  on different levels, traveling in different ways and freezing in different shapes to the sounds of various styles of music.  Well, it's official: they all love hip-hop and pop music. Lastly, we tried a keep the tempo exercise called the "rainbow dance."  It includes a pattern of movements where dancers have to listen to the music and keep the tempo.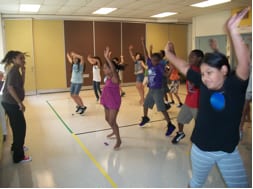 Many of the 5th graders were very shy and inhibited while the 4th graders seemed to be a little more comfortable with moving.  Wow! We have a lot of confidence building to do! By Friday, some dancers brought in music and shared improvised movements with the class. It was great!!
In class on Wednesday, we also began the process of creating chalk pastel self-portraits to represent who we are and to decorate our dance space with color and pride.  These dancers are true artists who really focused and took their time on this 3-step project   Wow!! I have done this art project at many schools, and I'm very impressed with Wheaton Woods 4/5th graders!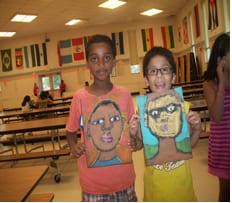 They were completed by Friday  7/8, I sprayed them all with a fixative to hold the chalk in place then mounted them on different color construction paper to make them pop, now our dance space is beautiful with our creative energy!  We are ready to create in week two!
Eltsah Broden
Dance
This program is  part of the Summer ELO-CARE program offered to select students in Montgomery County Pubic Schools.  This is the ninth year that AHCMC has had the privilege to work with MCPS on this very worthy program.  ELO-CARE is made possible by a grant from the 21st Century Community Learning Centers Program and the Maryland State Department of Education.