Dear Colleagues,
As you have probably read or heard, Montgomery County Executive Isiah Leggett announced his recommended FY12 Operating Budget on March 15.  Mr. Leggett's $4.35 billion operating budget seeks to close the $300 million gap for FY12 by reducing services, staffing levels and employee compensation, while protecting essential services and his priorities of education, public safety and the safety net for the most vulnerable.  In this budget year, one of the only major County departments to see any increase was the Police Department.
The County Executive's proposed budget recommends an overall 15% reduction for the Arts and Humanities Council budget*. This proposal will decrease our budget by almost $600,000, reducing it from $3,866,820  in FY11 to $3,286,694 in FY12.
Following the release of the proposed budget, AHCMC staff held two meetings with constituents on March 15. The first was a meeting of AHCMC's advocacy committee comprised of AHCMC Board members and representatives of several of the organizations we serve. The second was an open community meeting which was held at Imagination Stage. At both of these meetings I shared the results of my November through February meetings with County Councilmembers where I discussed the potential impact of budget reductions. In these meetings with Councilmembers, I noted the Governor's intention for the State with regard to the arts, and, in consideration of the economic driver we represent, asked that our budget remain flat or at least, that our sector receive fair treatment.
Nonetheless, due to the County's budget deficit, the Councilmembers I spoke with unanimously noted that it was improbable that AHCMC would squeak through the budget unscathed. Over and over, I was told that hard choices would be made this year. And though County Council recognizes, appreciates and supports the work of our arts and humanities community, they noted that we should prepare for a budget reduction.
Friends, times are tough and yes, this budget reduction is going to hurt us. Yes, it will negatively impact the arts and humanities multiplier that pumps millions of dollars back in to Montgomery County. But we can appreciate that these are extraordinary times and such times call for extraordinary measures. And while we'd like our budget restored, in light of deep cuts in other sectors this year and last, we must continue to tighten our belts and find efficiencies in our operations where and when possible.
Our core message continues to be: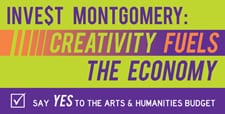 To members of the County Council, we will note our appreciation for the difficult challenges they face.  But we'll make it clear that this reduction cuts into the meat of our programs and the myriad of crucial ways we impact Montgomery County. And we'll remind them that the arts and humanities sector pumps $53 million into the local economy, but that this multiplier will decrease sharply with this cut.
We'll also point out that the arts and humanities augment other county agencies' activities by serving those in need through programs for at-risk youth; for those in the judicial system; people with disabilities; MCPS's most impoverished students, seniors and new Americans.
Arts and humanities do much more than provide entertainment for the cultural elite; we fill the gaps in social services, contribute to education and help make Montgomery County the wonderful place it is.
Over the next weeks you'll receive Advocacy Alerts from us with with details on the Advocacy Campaign, the Advocacy Tool Kit and instructions for the April 5 Potluck.  I urge you to take time to participate in the campaign and encourage your staff, friends, board and constituency to do so as well.
We've got a lot of work to do over the next few weeks but together we can accomplish great things!
Peace,
Suzan
*While the County Press Release noted AHCMC suffered an 24% decrease this includes a one time grant that will not be renewed in FY12. With that grant removed the actual reduction is 15%.
Pitch in and ask your County Councilmember to support the Arts and Humanities budget. Click here to open the Advocacy Toolkit!