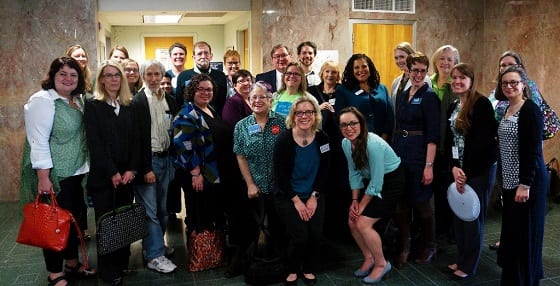 On Thursday, April 12, 2017, I testified in support of the County Executive's FY19 budget proposal of $5.36 million in funding for the arts and humanities, representing stable funding from FY18. Many of our FY18 grant recipients attended the public hearing and the preceding advocacy potluck, providing wonderful dishes and company for our councilmembers.
Testimony for the Proposed FY19 Arts and Humanities Council Budget to Montgomery County Council
Good afternoon Council President Reimer and esteemed members of the Montgomery County Council. I'm Suzan Jenkins, a 29-year Montgomery County resident and CEO of the Arts and Humanities Council.
I begin my testimony by sincerely thanking you on behalf of our county's cultural institutions, artists, and scholars. Your vision and diligence in appropriating funds for our sector during your tenure has helped create the vibrancy that county residents have come to enjoy and expect and has achieved national acclaim. For those of you for whom this is your last budget session as a member of the County Council — specifically Councilmembers Berliner, Elrich, Floreen and Leventhal — we commend your longstanding service to our great county. Thank You.
This year's appropriation is critical to sustaining that progress. Today I'm requesting your support of the County Executive's FY19 proposed budget for AHCMC and ask that, rather than removing the $150,000 previously appropriated for an earmark, that you keep these funds in our budget and allocate funds to AHCMC for administrative oversight and to increase funds for grantmaking. This strategy does not require new funds; takes the field's increased demand for grants, technical assistance and professional development services into account and sustains support for our burgeoning creative sector. AHCMC also supports Montgomery County Arts Advocates request for increased funding, should additional funds become available.
The County's combined overall investment in our sector has generated over $15M in tax revenue and creates over 3800 full-time jobs for a total economic impact of over $183M. These jobs and funds stay local, helping make our county one of the top places to live in the country, and one of the top economic drivers in the state.
Recent studies illustrate that Montgomery County is home to four of the top ten ethnically diverse cities in the U.S., namely Gaithersburg, Germantown, Silver Spring, and Rockville.  AHCMC staff regularly engages in direct outreach to recruit organizations from these diverse communities and in FY18 we saw a 58% increase in funds requested for Artists and Scholars Project Grant funds alone!
To meet the new demand for services while expanding programs to communities traditionally underrepresented in our funding portfolio we need to keep in step with our growing sector, both administratively and in grant funding. We propose to redistribute the previously set aside $150,000 to bolster the financial health of Advancement, Individual Artists and Scholars, Small Organizations and Groups and Wheaton Cultural Project grantees and to bring our administrative oversight to 10% of the total funds available for grantmaking.
By strengthening the budget for the arts and humanities, we strengthen the overall economy in our county. With this in mind, I urge you to support our request of a flat budget over that of FY18 of $5.5M for the Arts and Humanities Council and to consider the request of the Montgomery County Arts Advocates. This support, consistent with that appropriated in FY18, will help position our agency, our sector, and the county for greater economic growth and deliver valuable quality of life factors that attract business and community investments alike.
Thank you.