This semester, AHCMC is launching an inventory of public art in Montgomery County under the direction of Dr. Michele Cohen, Public Art Contractor. Students from Montgomery College and George Mason University will collect information on the art works and provide readers with short photo-logs and blogs about what they're finding in the field as they identify and survey the County's sizable collection.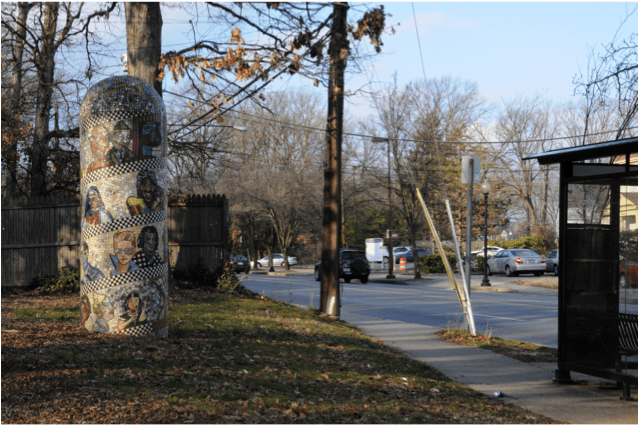 Last week, Sonia (my coworker this semester), my three children and I inventoried and inspected some of the Public Art Trust's outdoor sculptures including one at the Flower Avenue Urban Park (pictured here). My kids–Ayana, Kyran, and Dylan–had great fun being detectives looking for sculptures hiding in parks. The sculptures were very nice and almost all of them were in parks with busy playgrounds. Unfortunately, nobody paid any attention to the sculptures because they were not located close enough to the playgrounds. I think if the sculptures were integrated with the playground they would be more appreciated.
When we asked people what they thought about the pieces, they all replied that they liked them but they also agreed that the sculptures were a little isolated. It is unfortunate to have such nice sculptures and have them so isolated or have them in the wrong location.
Once they discovered the near-by playgrounds, my children forgot that the sculptures even existed. This is the main reason why I believe that placing these sculptures closer to the playgrounds would be a plus and kids would be exposed to art while they played. Not everybody has the chance to have a mum or a dad that is an artist, like I am, and that will take them on expeditions to see art for the fun and the pleasure of discovery. Art surrounds us and what better way to explore its wonder than while playing with your child?