When I volunteered to help out with AHCMC's Works on Paper collection, I had no idea what to expect. Works on Paper – could be anything, right? So imagine my delight when, during my first day going through the list of works, I came across Untitled, a silkscreen by Richard Anuszkiewicz.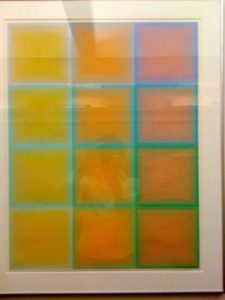 Born in Erie, PA to Polish parents, Anuszkiewicz is a true American artist. After getting his degree from the Cleveland Institute of Arts, his painting underwent a major change when he got the chance to study under Josef Albers at Yale. Albers – another artist in our collection – was a leading abstract painter and color theorist, and under his guidance, Anuszkiewicz began to explore a more abstract vision.
It may seem easy to dismiss this type of abstract work if you don't know the ideas behind it. Actually, though, this piece is a look at how our perception of one color is affected by the colors and light around it. It examines the way our eyes work, and the ways in which they can deceive us. To see examples of these, click here. Then go back and look at the Anuszkiewicz work. Don't you wonder whether the color you think you see is the color that's actually there? I, for one, find it pretty fascinating that the color I see might not actually be painted there.
The work owned by Montgomery County is one of the works Anuszkiewicz produced after his studies with Albers, since it is not realistic. Based on the colors and patterns, it's quite likely that the work dates from the mid-to-late sixties. And thanks to Montgomery County and AHCMC, this beautiful work is available in a county office for staff – and visitors, which means you and me – to enjoy!