Today's Guest Blogger Maritza Rivera is a multi-talented poet and a leading force in Montgomery County's literary community. Maritza is the founder of Mariposa Poetry, a community where poets and writers can promote, share, and receive support for their work.  This army veteran also volunteers at the Memorial Day Writers Project and the Warrior Poetry Project at the Walter Reed National Military Medical Center in Bethesda, where veterans are taught the fundamentals of poetry writing and performance in a mutually supportive space.
We bet you didn't know that Maritza is also a trained ballroom dance instructor!  Read on as Maritza writes about receiving the 2013 Montgomery County Executive's Award for Excellence in the Arts and Humanities Volunteer Award.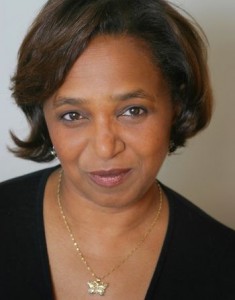 It was Friday the 13th and I had just gotten home from work.  The phone rang and although I would normally let the call go to voicemail, lucky for me, I answered it instead.  The last thing I expected was a call from Catherine Leggett congratulating me on receiving an award for excellence in the arts and humanities.
I was ecstatic and probably expressed several rambling sentences like: OMG, are you kidding me, really?  I felt so honored but proceeded to talk about The Writer's Center fundraiser with Richard Blanco and seeing Ike Leggett at the Rockville Library and leaving for a writers conference in Sicily the next morning and oh no, I hadn't packed yet and OMG, thank you so much and what a lucky Friday the 13th, all in one breath.  When I get that excited, I sometimes forget to use my inside voice, so I hope my exuberance didn't cause any hearing loss.  I'm certain though that my reaction did generate some laughter on the part of Catherine Leggett.
Of course I had to call my mom in Puerto Rico, my kids, and then my brother in the arts, Michael Friend from Soul in Motion, an organization that I support and love.  (I consider myself their biggest fan!) Then it was time to finally get packed for Sicily.
The Volunteer Award is a tremendous honor for service to the community.  I am grateful for this honor and humbled by it.
That I am passionate about poetry is not a secret.  Just ask my children who became my first audience in their formative years.  They survived and have been my inspiration and motivation to give back to the community and share my poetry and passion for the arts everywhere I've lived and worked.
I first became involved in the literary community in 1995 at a local independent bookstore in Rockville called Leafthrough Books and Gathering Place, which is now long gone.  In searching for a new literary home, I found and became a member of The Writer's Center in Bethesda.  Over the years I've attended readings, workshops, Master Classes, book signings, fundraisers, anniversaries and open houses there, where I first met people who have become friends.  Other organizations that have been supportive and encouraging of my artistic endeavors are Washington Musica Viva and Pyramid Atlantic.  Carl and Marilyn Banner (I love and am a collector of her artwork) and Jose Dominguez and Gretchen Schermerhorn have been helpful in so many ways.
Working in Montgomery County first gave me the opportunity to be creative and share dance as a fitness activity at the Dennis Avenue Health Center.  At lunchtime on Fridays it was time for Dancing with the Staff, where I taught rhythm dances over eight weeks.  I still smile when I think about that.  Not too many people know that I'm a trained Ballroom Dance instructor.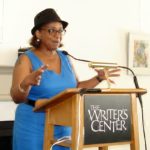 I also loved working at the Gilchrist Center for Cultural Diversity.  I first became aware of the Center while involved in judging a poetry contest and then later had the opportunity to work there and create a percussion instrument petting zoo during the first World of Montgomery Festival.  I remember the Leggetts stopping in with their grandchildren.  Montgomery County and the Arts and Humanties Council also gave me the opportunity to combine my love of poetry and the arts at the Seeing Food exhibit at the Kramer Gallery earlier this year.  It was such an amazing experience to see my poetry hanging as an art installation in the Brazilian tradition of Literatura de Cordel (clothesline literature) that I had witnessed in Brazil in 2012.
Montgomery County is a tremendously diverse county with over 120 countries represented among its residents and numerous languages. The arts provide a universal language most people will understand.  I believe that the arts can unite and create understanding through beauty.
Although we all work hard to make a living, the arts feed the soul.  At a time when we are all faced with financial challenges, lack of resources and funding for the arts and humanities, it is also a time when these organizations are most needed.  I encourage everyone to get involved, volunteer their time and passion to promote and support the arts and cultural organizations.  I think that's what it takes to keep the hope for beauty and culture alive for all our children and grandchildren.  It's the least we can do for them and their future.