Meet our new Grants Program Coordinator Ana-Alicia Feng, a marketing and fine arts professional from Montgomery County. We sat down with her to learn about her interests in the arts, what she is most looking forward to doing in her role, and more!
AHCMC: So tell us about yourself.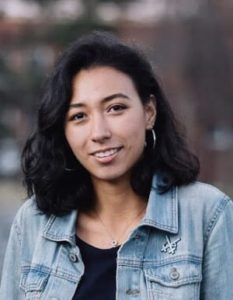 Ana-Alicia: I am a local! Born and raised in Rockville, I received a Bachelor of Arts in Studio Art with a concentration in painting, a Bachelor of Science in Marketing, and a minor in art history from the University of Maryland, College Park. I was raised in a multiethnic household among dedicated patrons of the arts. I've been fortunate to have been exposed to many languages and cultures, and have been participating in activities of Montgomery County's various arts and humanities organizations for as long as I can remember. Having recently developed a passion for evaluation, I am thrilled to interact with the field of my home community in a professional setting and see how I can contribute to AHCMC's grants process.
AHCMC: What led you to the arts field?
Ana-Alicia: I have had a passion for creating art since a very young age; I took private lessons in fine arts, piano, and chorale music, making these a priority in my education and afterschool activities. Coming into university with the intention of becoming a freelance artist, I found myself pulled towards the administrative side of art. I enjoy organizing and improving the administrative tasks so that programs and services may flow effortlessly in order to increase public interaction with the arts and humanities. Having added a marketing degree, I am able to assist the art that I so cherish flourish by working behind the scenes and beyond the tip of my paintbrush. Of course, I will never let go of the initial compulsion to create art that drove me to this field to begin with and continue my artistic practices whenever I can!
AHCMC: Tell us a fun fact!
Ana-Alicia: I help teach kids Chinese yo-yo, also known as diabolo! I learned it as an extracurricular activity at my Chinese school and now go back as a volunteer to teach.
AHCMC: What interested you to come work for AHCMC?
Ana-Alicia: I have had several wonderful internships at institutions such as the National Gallery of Art and The Phillips Collection, however drawing from those experiences, I am delighted to now serve the local community that I grew up in. AHCMC lives by their mission to cultivate and support excellence in the arts and humanities, expand access to cultural expression, and contribute to economic vitality in the region. I am honored to be a part of such an organization. At the time of my hire, AHCMC was looking to undergo a change and I wanted to participate in that transition to keep the organization moving forward with its mission.
AHCMC: What are you most looking forward to as the Grants Program Coordinator?
Ana-Alicia: I am looking forward to interacting with our creative community, updating FluidReview, and working with the grants team to streamline processes, both for the benefit of the field and AHCMC. I mentioned that I'm newly interested in evaluation, so I'm eager to listen to responses and incorporate feedback as best I can.