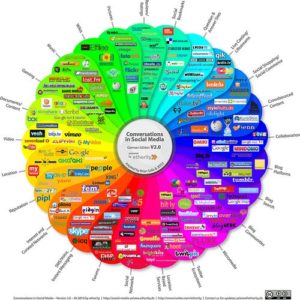 We're
kind of
super
tech-happy here at AHCMC. We're all about being more efficient and leveraging what we can for the most impact. Here are some resources that help us make informed decisions and stay up-to-date on the ever-changing technology landscape:
Nonprofit Technology Network
– NTEN is a fantastic resource for any nonprofit looking for best practices in the nonprofit sector. In fact, our staff had the opportunity to attend the NTEN Technology Leadership Webinar series over the past couple of months. (You'll hear more about this soon.) There is a cost to membership, but their blog and podcasts are free to access and are incredibly valuable. (
@NTENorg
)
Technology in the Arts
– For technology and social media coverage that's focused on arts and culture organizations, Technology In The Arts is a go-to place. A service of The Center for Arts Management and Technology at Carnegie Mellon, TITA has a blog, podcast series,  webinars and even free mini-nars (mini webinars). Examples and tips for practical application and
pirates talking about QR (cue-arrrrrgh) codes.
You can't beat that. (
@TechInTheArts
)
Mashable
– This is a go-to place for all social media and tech news. Today's headlines alone: "
YouTube Adds Creative Commons Content to Video Editor
"; "
Microsoft Offers First Sneak Peek of  Windows 8
"; "
Google Launches Its Groupon Competitor
." The amount of news is a bit overwhelming, but staying on top of this stuff is pretty darn important. (
@mashable
)
You've Cott Mail
– Thomas Cott sends a daily themed digest of articles related to arts and culture. While some of them might not be technology-related, the articles are always interesting — and you don't have to hunt through news sources to find them. (Confession: There was an email digest recently about Twitter art that I nerded out on.) (
@youvecottmail
)
National Arts Marketing Project
– A program of Americans for the Arts, NAMP is a great resource for articles specifically on using technology for marketing. NAMP also holds a yearly conference, which I was fortunate to attend in November 2010. (It's also how I heard about The Conversation Prism, which is at the top of this post.) Highlights from the 2010 conference are available on the website.
What helps you stay afloat technology-wise?