On Monday, September 19, 2011, we hosted the Patch + Cultural Community Mixer at The Writer's Center in Bethesda. It was a diverse crowd of people, with representatives from many local organizations in attendance along with Patch editors from local sites in Montgomery County.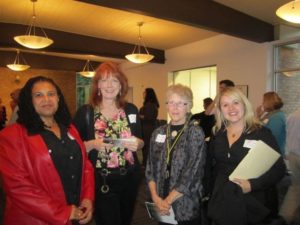 What exactly is Patch? Before I go any further, I will take a second to fill you in. And who can say it better than Patch themselves?
"Simply put, Patch is a new way to find out about, and participate in, what's going on near you. We're a community – specific news and information platform dedicated to providing comprehensive and trusted local coverage for individual towns and communities." Each county has multiple Patch Editors dedicated to different areas. Each editor values feedback from organizations and individuals to help Patch grow and help give back to their surrounding communities. To learn more, visit www.patch.com.
At our event on Monday, we had Patch Editors from Bethesda, Chevy Chase, Colesville, Gaithersburg, Germantown, North Potomac-Darnestown, Potomac, Silver Spring, and Takoma Park. After registering and mingling, our guests had an opportunity to take part in a speed networking activity led by our CEO, Suzan. It was interesting, with some very thought provoking questions like, "If you could do one thing at your current position and you knew you couldn't fail, what would it be?"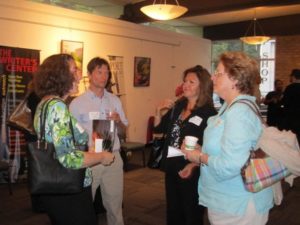 Following speed networking were Meet the Editor Appointments, a chance for attendees to get to know the Patch Editors of the regions of the most interest to them.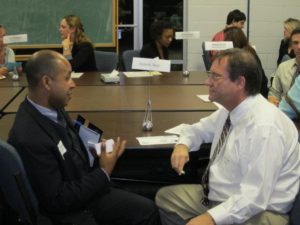 With guests and editors staying through (and some after) clean-up, I'd say that the mixer was a success! Thanks again to Patch for sponsoring the event and to The Writer's Center for hosting!