Over the next week, we'll be sharing interviews with bloggers to be featured at our Parent Blogger Brunch on December 9, co-hosted by Jessica McFadden of A Parent In Silver Spring. Meet members of the new media and sign up for the brunch now!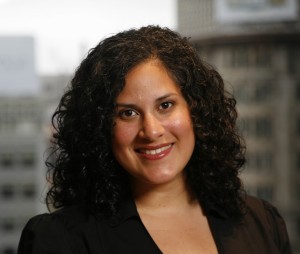 Sandie Angulo Chen has been writing about movies and pop culture since 1998, when she landed her first job after college at Entertainment Weekly.com. From there, Sandie moved to AOL's Moviefone.com, where, as a content editor, she wrote features, conducted celebrity interviews, and tracked upcoming blockbusters and indies. Since 2007, Sandie has contributed as a movie critic and writer to Common Sense Media, The Washington Post, Variety, AOL'as Moviefone, and MTV's Next Movie.com. As a blogger, Sandie has a personal journal-style blog called Urban Mama and is the Editor of the collaborative local blog, The DC Moms. When she's not running after her three children or at a movie screening, she enjoys crisscrossing the DC area in search of memorable museum exhibits, concerts and standout restaurants.
What has inspired your new material on your blog, and how do you keep generating new material?
On the collaborative blog it's sometimes difficult to keep 25-30 writers motivated, so we have several categories that are easy to brainstorm and write for, because we all have a favorite place to hang out in DC or a celebrity we're in love with or a special place to go on a Date Night.
Who are some of the most interesting people you have met through your blog?
Honestly? The other women on this panel and dozens and dozens of writers I've met from across the country at various conferences and events. My sister and I started a YA book blog a couple of months ago, and I've already corresponded with several published YA authors on Twitter and through the blog, and that is so much fun — to see how these published novelists are interacting directly with their fans and taking amateur reviewers seriously.
What is the best thing a blogger can give to his or her readers? Truth and passion. Before the FTC regulations came out, it was ambiguous for a while when a blogger was telling the "truth" or being paid to prop up a product or service. I stopped reading several blogs once I cottoned on to the fact they weren't disclosing their associations. Passion is the obvious key — write about what moves you, whether it's a celebrity you're crushing on, a cause that motivates you or your family whom you adore.
Which post of yours is your favorite and why?
I don't have a favorite post, but I guess the one that I love to reread the most is the story of my youngest child's homebirth. It was a dream come true for me, and I loved sharing it with my readers. Then there's the post I wrote the night my mother died. It was so difficult to write, but I wanted to describe my mother and the joy it was to be her daughter with everyone.
What is your favorite blog to follow? Are / were you inspired by someone else's blog?
I love all of my friends' blogs, but because I appreciate humor so much (and can't write it very well myself), I look forward to reading Stimeyland, written by our friend Jean, on a regular basis. She never fails to make me laugh.
If you could say one thing to a perspective new blogger, what would your advice be? Decide why it is you want to blog — if it's to write because you love to write, don't worry about monetizing and book deals and trips and product reviews you see everyone else scoring — write with passion, with integrity, with love, and the other stuff is just icing.
Visit Sandie's blog, Urban Mama, and follow her on Twitter at @urbanmama! You can also meet her at the Parent Blogger Brunch on December 9 – sign up now.