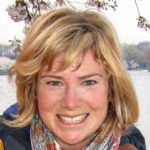 Over the next week, we'll be sharing interviews with bloggers to be featured at our Parent Blogger Brunch on December 9, co-hosted by Jessica McFadden of A Parent In Silver Spring. Meet members of the new media and sign up for the brunch now!
Monica Gallagher Sakala lives in Montgomery County with her husband and 2 young daughters. After almost 15 years of public affairs work in DC, she decided to stop working full-time and instead focuses on blogging at Wired Momma, where she offers readers a snarky daily jolt of parenthood from the nation's capital. Monica also contributes to Huffington Post DC, Washingtonian Magazine, TheDCMoms.com and freelances for PR clients. On Wired Momma, she covers DC-related parenting news, interviews local women who are experts in their field, reviews fabulous local events and rarely can resist a political scandal or mocking the latest celebrity baby name.
What has inspired your new material on your blog, and how do you keep generating new material?
My kids are always my first inspiration; the hilarious things they say, the challenges they pose and the creative way they view the world. Beyond that, issues facing parents today and news events inspire my topics.
Who are some of the most interesting people you have met through your blog?
I try to write about local women around the beltway who are experts in their field. I really believe in supporting small business, especially ones started by moms because typically parenthood has inspired their new business. So interviewing this diverse group of female entrepreneurs has so far exposed me to some really interesting and amazing women.
What is the best thing a blogger can give to his or her readers?
I suppose the answer is – a reason for the reader to want to come back and read again. I write honestly about parenting – life isn't always sunshine and roses with kids and I'm never going to pretend like it is, at least in my house – and I think people appreciate that about my site.
Which post of yours is your favorite and why?
Probably a post I wrote for Washingtonian about my obsession with strollers, I had a lot of fun writing about the personalities of each of my strollers and confessing my addiction to finding the perfect stroller and the expense of it along the way.
What is your favorite blog to follow? Are / were you inspired by someone else's blog?
I contribute to TheDCMoms.com and am so proud to be a part of so many talented writers in our area – their individual blogs and areas of expertise never cease to amaze me.
If you could say one thing to a perspective new blogger, what would your advice be?
Write honestly and my general rule of thumb: if I've been thinking about something for 3 days, it's a blog topic.
Visit Monica's blog, Wired Momma, follow her on Twitter at @Wired_Momma or like her Facebook page! You can also meet her at the Parent Blogger Brunch on December 9 – sign up now.