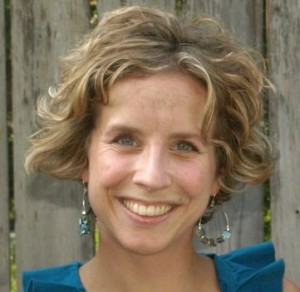 Over the next week, we'll be sharing interviews with bloggers to be featured at our Parent Blogger Brunch on December 9, co-hosted by Jessica McFadden of A Parent In Silver Spring. Meet members of the new media and sign up for the brunch now!
Amy Mascott is the creator of teachmama.com, where her focus is to share the tools and resources parents need to be the best teachers for their children. She's not a full-fledged homeschooling mom; rather, she capitalizes on learning opportunities in the every day and uses games and play to get her own children prepared for school and excited about the world around them. Amy is paving the way for a more modern 'lifestyle of learning', empowering all parents to take a stronger role in supporting their children's education.
In February 2010, Amy created We Teach as a forum for parents and teachers to connect, share ideas, and grow into better educators—no matter the classroom. We Teach has grown quickly into one of the most successful and highly-trafficked educational forums on the web.
A Reading Specialist, freelance writer, former high school English teacher, and mom to a 7, 6, and 4-year-old, Amy's work has been featured on dozens of online and print publications, and she has handed over many teaching tools to parents during speaking engagements. She is a contributor for Scholastic's Parents Online, PBS Parents, readwritethink.org, and Mom's Homeroom, and she has been a literacy contributor for Washington Times Communities and columnist for Rockville Patch. Amy is currently an editor and contributor for The DC Moms.
Offline, Amy sits on her children's Preschool Ministry Board, she created and facilitates the Family Mentoring program at her local elementary school, and she runs the school's Kindergarten Orientation. On Twitter, she's @teachmama, tweeting about education, literacy, books, dog-walking and everything in between.
What has inspired your new material on your blog, and how do you keep generating new material?
The material on my blog is inspired by my children, what I do with my children, and what they're going through at the time. Since the focus of teachmama.com is 'learning in the every day', I really try to keep the content centered around the things we do at home to keep learning fun, relevant, and real.
Who are some of the most interesting people you have met through your blog?
The most interesting people I've met through my blog–through the blogging world–have to be The DC Moms. The women in that group have become some of my most dear and cherished friends, hands down. But blogging has also allowed me to meet other really cool people like Maxine Clark, CEO and Chief Bear of Build-A-Bear, Paula Dean, Mickey & Minnie, Miss Frizzle, SuperWhy!, and more.
What is the best thing a blogger can give to his or her readers?
The best thing a blogger can give to his or her readers is some sort of take-away. Everyone is so busy that I feel readers want something and deserve something–for the time they spend reading our blogs. That take-away can be a tiny piece of advice, news on a sweet deal, some sort of activity to do with their kids, or a good laugh; it can even be a riveting, thought-provoking piece that gives them a new perspective on something. It can be anything, but if bloggers want readers to return, they have to make it worth their while.
Which post of yours is your favorite and why?
I have a lot of favorite posts because most bring back memories of time spent with my kiddos, but I'd have to say that I have two favorites: one on pretend play and one on books as gifts. The pretend play post [http://teachmama.com/2011/01/remembering-the-importance-of-pretend-play.html] was just a really fun time with my children–we set up our basement as a restaurant–the Red Checks Restaurant–and really played restaurant for a good, long while. We started by creating menus, then organizing the play kitchen, then taking turns being the cook, server, and patrons. It was fun. And the second post I love is one about finding the gifts in every book [http://teachmama.com/2011/03/the-gift-of-reading-finding-the-gift-in-any-book.html]. It just forced me to take a minute to really look at why I love certain books and what they 'give' to readers. It was a chance to share some of my favorite titles and explain why I think they're awesome.
What is your favorite blog to follow? Are / were you inspired by someone else's blog?
I used to be really great at keeping up with blogs and reading blogs, but now I can barely read the newspaper at breakfast–so my blog-reading has suffered. But I do subscribe to some of my best friends' blogs–A Parent in Silver Spring, Tech Savvy Mama, Toddler Planet, No Time for Flashcards, Pink and Green Mama, Frugal Family Fun Blog–and I love them each for different reasons. I was inspired by Allie's No Time for Flashcards and MaryLea's Pink and Green Mama–they are both incredible teachers and close friends of mine.
If you could say one thing to a perspective new blogger, what would your advice be?
My advice to a perspective blogger would be to stay focused on something that you know a lot about and that interests you, and to write because you love to write, or because you love to craft, you love to ride horses, plan kids activities, cook, or whatever. And blog for you–not because you want to make money or be famous or something; blogging is a labor of love, and the best bloggers I know put their heart and soul into nearly every post–and that's what brings readers back.
Visit Amy's blog, teachmama.com, and follow her on Twitter at @teachmama! You can also meet her at the Parent Blogger Brunch on December 9 – sign up now.