Friends,
October has undoubtedly been an exciting month! The Arts and Humanities Council of Montgomery County (AHCMC) kicked off a new fiscal year with our wonderful cultural community while Arts and Humanities Month celebrations occurred throughout the county and Americans for the Arts released the national results of the Arts and Economic Prosperity 6 (AEP6) study. And let me tell you, the study results are truly spectacular!!
I am absolutely delighted to share a snippet of what we learned from the national AEP6 results. Despite the innumerable challenges the greater creative sector faced due to the COVID-19 pandemic and resulting recession, the nation's cultural industry produced $151.7B in economic activity during 2022, supported over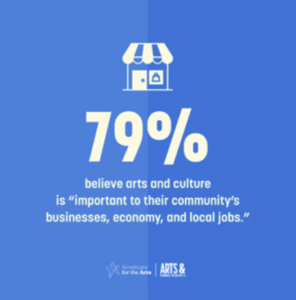 2.6M jobs and generated $29.1B in tax revenue to local, state, and federal governments!! In other words, the arts and culture sector remained a significant and steadfast contributor to the country's economy in the face of devastating circumstances. We are resilient, we are formidable, and we once again demonstrate we are worth the investment. An official announcement and opportunities to learn about Montgomery County's AEP6 results are coming soon; keep an eye out! 
Our local creative community is a treasure trove of arts and culture professionals and experiences to be proud of, so it is no mystery to me that our sector continues to stand strong while rebuilding. This year alone, our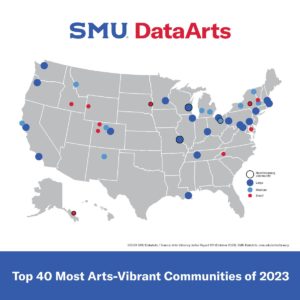 local cultural industry touts 12 Helen Hayes Awards, 5 Capital Region Emmy Awards, 1 NEA Jazz Master, 2 WATCH Awards and an American Association of Community Theatre Festival award winner! The county is home to prominent festivals such as the Bethesda Row Arts Festival, Silver Spring Jazz Festival, Gaithersburg Book Festival – and local favorites – Wheaton Film Festival, Taste of Bethesda, Heritage Days and more. Celebrations like International Night at the F. Scott Fitzgerald Theatre commemorate the rich ethnic diversity of the county. To top it off, SMU DataArts ranked the Federick-Gaithersburg-Rockville, MD region as the 7th most arts–vibrant large community in 2023! 
| | | |
| --- | --- | --- |
| | | |
These are only a few examples of what makes our local creative sector incredible, clearly demonstrating that dedication and passion for your work produces undeniable results. Thank you for striving to make Montgomery County a premier destination for arts and culture nationwide. Please know that no matter what we encounter moving forward, AHCMC will always champion a bright future filled with even more amazing experiences and opportunities for all to enjoy.  
A very happy Arts and Humanities Month everyone! 
Suzan