Last week at our Public Hearing with Montgomery County Council, Bethany Mattocks, Marketing and Communications Manager at the Conference and Visitors Bureau (CVB) of Montgomery County, gave a thrilling testimony on how the County's cultural scene spurs tourism in Montgomery County. Read her testimony below.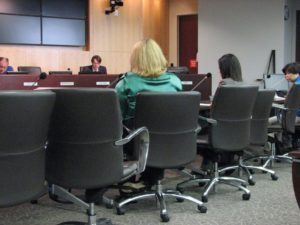 Good afternoon President Berliner and honored Councilmembers. Thank you for all of the great work you do on behalf of our County.
My name is Bethany Mattocks and I am the Marketing and Communications Manager for the Conference and Visitors Bureau (CVB) of Montgomery County. Our primary mission is to promote Montgomery County as a destination for business and leisure travel. Our secondary mission is to encourage local day trips and provide tourism related resources for County residents.
I also serve on the Arts & Humanities Council Marketing Committee and on the Board of Directors for VisArts Rockville. I am a lifetime Montgomery County resident and grew up in Silver Spring. I have seen Silver Spring flourish in the past few years, largely due to the number of arts organizations in the area. It is rare that within walking distance there are major arts venues such as AFI Silver Theatre, Round House Theatre and the new Fillmore.
As a County resident, it's fantastic that I don't have to go all the way to D.C. to experience a live music concert; I can experience a live music concert just minutes from my house! And next Tuesday, I'm taking a mosaic tile class at VisArts. Thanks to support provided by the County through the Arts and Humanities Council, opportunities for the CVB to promote Montgomery County, our great quality of life, stellar visual and performing arts and humanities, are truly endless.

Tourism in Montgomery County accounts for thousands of visitors annually with a total direct consumer tax impact of $89,960,142 in Fiscal Year 2011. Our research shows that many of those tourism dollars were largely driven by the arts. The arts create a fun, vibrant atmosphere in our County that can't be replicated through any other means. The arts and humanities are an economic driver that brings tourists to our County who patronize our hotels, our shops and our restaurants. Just yesterday we received an inquiry from a German travel writer who wants to attend a concert at Strathmore. He was originally visiting Washington DC but is taking time out of his schedule to come to Bethesda for a concert.
Through research derived from the Cultural Data Project, the Arts and Humanities Council has data that shows for every $1 invested in the arts, $15.80 was pumped back into the local economy. From the Conference and Visitors Bureau standpoint, that's good news. And by any business standard, that's a great return on investment, both in dollars and in creating goodwill.
We ask that you support the Arts & Humanities in Fiscal Year 2013 with flat funding; it will be one of the best business investments the County can make. Thank you for your consideration.
Ask your Councilmember to support the FY13 arts and humanities budget! Click here to visit our Take Action page for resources and more information.