2019-2020 Ida F. Haimovicz Visual Arts Award Winner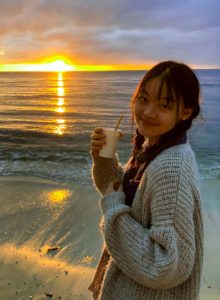 Mary Ma
Mary Ma is a student at Richard Montgomery High School who is perpetually infatuated with art. She loves visiting museums, checking out local exhibits, and painting in her free time. Though she mainly works in oil, Mary also dabbles in watercolor, acrylic, charcoal, pencil, fabric, and even digital 3D design. Mary is fueled by creativity; when she isn't painting, she's altering and making her own clothing. As a part of the Smithsonian Freer Sackler Teen Council, the Hirshhorn ARTLAB+ Emerging Artist Internship program, and as a former member of the National Gallery of Art's Museum Makers and the Smithsonian Libraries Chaptour Guides, Mary is incredibly involved in the DC museum community. She is also involved in her school community; she is the senior president of National Art Honor Society, and an Editor in Chief of her school's newspaper, the Tide. Her work has been exhibited at numerous locations, including but not limited to: Yellow Barn, VisArts, Freer Sackler. In the future, she hopes to be involved with a museum career, whilst continuing to create and exhibit art. 
Mary's process involves her memories and dreams. In her works, she explores her subconscious, mining her memories and dream journals for details to reconstruct. She chooses not to use references while painting in order to avoid the limitations that physical objects can impose on her flow of emotion. She draws directly from her memories and descriptions of her dreams, evoking the subconscious with her paintbrush, not the tangible.
Visit Mary's website to view a portfolio of her work.

Get to know a little more about Mary and her artistic journey! 
"since first grade, my notebook pages have always been covered with doodles of noses (one of my favorite things to draw) and an assortment of foods…" read more
Mary's Art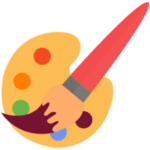 ---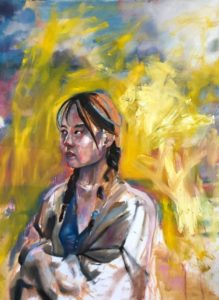 Road Trip, Oil on canvas, 36 x 40 in. 
This is a self-portrait of myself on a family road trip. I remember my toes in the sand and the warm sunlight hitting my face. With the evocative rough brushstrokes of white and yellow in the background, I wanted to express the shapeless, fleeting nature of the sunlight.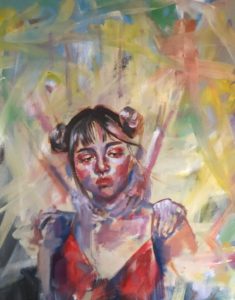 Lover, Oil on canvas, 24 x 36 in. 
In this piece, I wanted to express how love can sometimes feel constraining and suffocating. The hands grabbing at her are an imagined element of the pressure that loved ones can place on you in the name of love.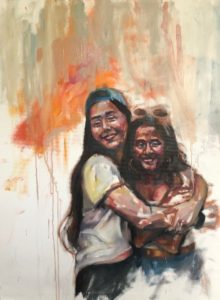 D.C. Pride, Oil on canvas, 36 x 40 in. 
This is a depiction of a memory I had at my first Pride parade, the D.C. Pride parade. The two figures featured in the piece are my friends. With the variety of colors in my friends' clothes and faces and the brushstrokes in the background, I wanted to express the colorful chaos at the parade and the happiness I felt in that moment.