Below is the second testimony submitted to Montgomery County Council last Thursday in support of the Public Arts Trust:
Good evening. My name is Dr. Michele Cohen. I was the founding director of New York City's Public Art for Public Schools program for twenty years and I am currently a consultant to the AHCMC, the custodian of Montgomery County's vast collection of public art. I have written books on public art, taught courses about public art, supervised NYC's sculpture inventory, and managed a collection of over 1,200 artworks in NYC schools: I know the challenges of caring for art in the public realm.
Montgomery County has a significant public art collection, including portable works in government offices, murals and sculptural installations in schools, iconic pieces marking courthouses, parks, and community centers—works that add to the quality of life for all of Montgomery County's residents and visitors. Nationally known artists include Muriel Castanis, George Greenamyer, Joseph McDonnell, and Mary Ann Unger. Over the last three decades, many agencies helped form this collection, but none have taken ownership of it. As years of deferred maintenance accrue, the condition of objects has worsened, and now about 15% or 50 major sculptural installations in public spaces require substantial treatment—more than just hosing down and waxing.
I am here to tell you that deferring maintenance of public art year after year is not economical and discredits the government body responsible for caring for these works of art. Like everything in the built environment, public art requires maintenance. Without it, artworks break, corrode, pit, peel, crack, rust, and crumble. Instead of being a public amenity, public art becomes an eyesore and a hazard.
In 1995 the County created the Public Arts Trust to oversee the various Percent for Art programs that have been operating in the County since 1983. While the Trust is doing everything in its power to manage the collection responsibly, due to budget constraints, it must do so on a much smaller budget than in previous years. For the Public Arts Trust to fulfill its function and live up to its name, the County must provide the seed funding to enable the full implementation of the collection inventory and conservation and maintenance plan. Uneven funding in the past has led to aborted attempts to catalogue and institute a maintenance program for the collection; meanwhile, the condition of artworks under the Trust's jurisdiction has worsened, and the County has even had to remove artworks because their compromised condition threatened public safety.
Fortunately there are many successful models to look to when considering how best to fund conservation and ongoing maintenance. One that I am familiar with, the NYC public schools, allocated a percentage of school maintenance money for conservation of public art in school buildings every year. School administrators of the largest system in the nation recognized that permanent murals, stained glass, and sculptures affixed to school buildings required maintenance just like roofs and boilers. Over two decades of systematic efforts, supported through public and private partnerships, capital and tax-levy funds, grants, and programs like Adopt-A-Monument and Adopt-A-Mural, we treated hundreds of major artworks, dating from the early twentieth century to the present. We preserved this artistic legacy that continues to enrich educational environments. Montgomery County can do that as well. Many of the country's leading public art programs–in Portland, Seattle, Cambridge, Miami, and Arlington–all have conservation and maintenance programs. I urge you to allow the Arts and Humanities Council of Montgomery County to do the right thing–the responsible thing. Let the Public Arts Trust be an effective steward of the collection.
Please support the Council's FY 2013 funding request for the Pubic Arts Trust to implement a collection management and maintenance plan for this valuable public asset that will protect the collection for future generations to come.
Thank you for your time and attention.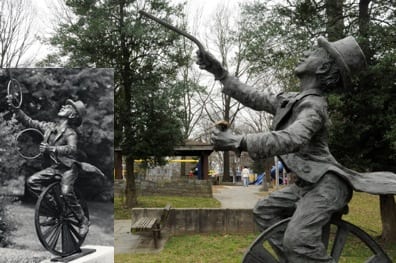 To support the Public Arts Trust,
click here.
For more information about Public Art in Montgomery County,
click here.