2020-2021 Ida F. Haimovicz Visual Arts Award Winner
Larisa Kachko
I tell the stories of objects and people through my work. I focus on the underlying layers of an object's colors as well as it's surface characteristics, which lets me paint out a soul and life for it. I particularly adore objects with imperfections such as scratches, broken handles, or cracks because those details make it that much more interesting to express its life in a painting. For portraiture I study different types of people and try to find their most prominent features that show who they are. Oftentimes I go for a sober, nostalgic feeling, where I try to bring light to the character of my models. When deciding on a composition, I go with multiple light sources to add interesting cast shadows, reflections, and highlights, and try to picture how I will make a piece flow.
Visit Larisa's website to view a portfolio of her work.

Get to know a little more about Larisa and her artistic journey! 
"I loved putting the worlds I made in my head down on paper and I was fascinated…" read more
Larisa's Art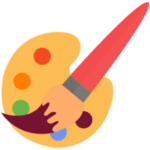 ---
---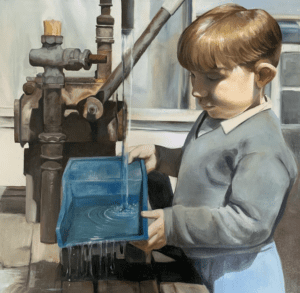 Curious Wonder, 2019
Oil paint on canvas
24 x 24 in. 
In this piece I explored the meaning of curiosity in childhood. This need to discover goes deeper than just the process of following cause and effect. Curiosity is noticing how rust curls around and settles in the crevices of a water pump. The thoughts and questions follow the way the water feverishly distorts its surroundings before calming into a motionless cylinder, and then once again breaking into a dance at the bottom of a plastic truck. Curiosity's eyes gently observe the sun-bleached wood of a village well, brought to a lively dark shine once again by the pooling liquid. This is where my brother and I spent our days in the blaring summer months of Siberia, curiously wondering over an otherwise mundane existence.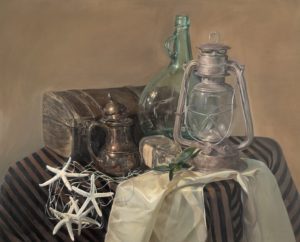 Interrupted in Time, 2021
Oil paint on canvas
24 x 32 in. 
This piece contains objects I incorporated into some of my first paintings, and working with them again felt like reuniting with a long lost companion. Using my favorite medium of oil paint, I explored the fragility of the glass, the tones and reflections of the metal, and the softness of the silk bent and folded underneath a faded lantern. I enjoy writing love letters to the materials I study, and using items that I was familiar with long ago made it easier than ever to construct this devoted composition's textures.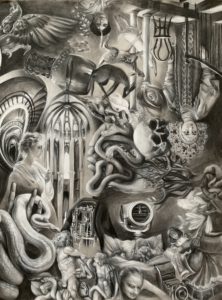 In Between A State of Dreaming, 2021
White and black charcoal on toned paper
30 x 22 in. 
This is a piece that can be viewed from any perspective and still have a cohesive composition. I created this eclectic mirage as a nod to the flowing state between the conscious and subconscious, where the mind wanders over, but never quite grasps, ideas related to identify, emotions, discoveries of daily existence. I found myself in this state just before falling asleep, and I attempted to make sense of my delirious thoughts as a passive observer rather than a hedonistic participator that rushes to fall into the void of dreaming. I stayed half awake and let my mind wander across these planes, carefully meditating over my discoveries later through this drawing.